New Castle Community History and Archaeology Project

Researching Your House in the Town of New Castle
A house research guide for New Castle County is available from the State of Delaware has much useful detail,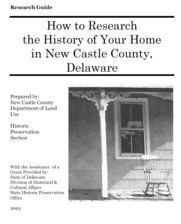 but there are some resources specific to the Town of New Castle. These research approaches are listed below in order of ease of use and usefulness. Even if you know only the address of a property in the historic area you can find out the names of occupants or owners from the first settlement in the 1650's up to the 1840's. These names help with the other approaches such as census, probate, tax or burial records.
Easier approaches
Look at Jeanette Eckman's typed notes. These cover history of each lot in the historic area from the Dutch settlement till about 1840. See an example for 30 The Strand. She prepared these notes around 1950 as part of the feasibility studies for the "Williamsburg on the Delaware" project-- only houses existing in 1824 would have been preserved. The notes are available at the Historical Society of Delaware (HSD) library on Market Street in Wilmington and in the NCHS archives in the Amstel House (open 9-12 Wed. or by appointment).

If your house is on The Strand, look at a detailed description of the street available in the Master's Thesis of Frank Brown at the University of Delaware Library or in the NCHS archives. In this work, (Front Street, New Castle DE, Architecture and Building Properties) he wrote about the fire of 1824 that destroyed most of the houses on the street.
Look at your house. What style [examples link] Georgian with flemish bond brick pattern on front, Federal with common bond on facade and 6-9 course running bond on sides, Victorian with all running bond? String course (water table) on facade (Georgian)? Joists or beams that are hewn (<1800), hand sawn (<1860's?) or circular sawn? Handmade nails and screws in doors and cabinets (<1860's?)
Maps contain information on what buildings existed in a given year, and sometimes the owner or type of business:

Latrobe survey plan, 1805

Entire plan

Waterfront area

Latrobe survey
Front St.
Elevation


30 The Strand, Post Office, George Reed I, II

Beer's Atlas 1868

High Resolution Georeferenced Images


Sanborn
Fire Insurance
Map 1885

Available from Del. State Library
(requires county library card)


Water St (The Strand) from Church Alley to Read House


Harder approaches
To get information from the census (before 1900), or wills, probate or orphans court records you need to know the names of the owners (or occupants for the census). If you don't know the names of owners from maps you can get these via following the chain of title starting with data from your deed.
Census information varies among the various decennial censuses. None before 1900 give the street number-- you have to know the resident's name. But you can find out who lived in a house, occupation, literacy...
You can search the entire Heritage Quest database of all states from 1800 on if you have a public library card in one of the Delaware Counties. For 1850 and 1870 all the New Castle records have been transcribed, and are available as text or as spreadsheet/database, with analysis by family size, wealth, birthplace, race, birthplace...

Wills reveal not only property bequests, but provides information on spouses, parents and children, and sometimes even long-term employees or friends.

Probate Records can provide insight not only about possessions and their valuation but also what rooms were used for and where the possessions were located. [dungan link]

Orphans court has information about properties of homeowners who die leaving minor children. The records from 1770 - 1830 have been abstracted. Those for New Castle town and hundred are available here. You must know the name of the deceased to find a record, but just browsing is fun. For example, the Dutch tile house on the Strand was described as:
YEATES, JOHN (child-Ann) I-1-448 (1806) New Castle Hundred, Town of New Castle - lot on Front Street
...an old House in bad repaire a Stable and Carriage House a Well which wants to be cleaned out and a Pump placed therein the Floors in the House to be laid with good Hart-pine boards and new stairs made the South East Gable and being so bad deem it for the benefit of the Orphans that it should be taken down to the Ground and rebuilt the rooff to be made as far as the Chimney to corospond with Doctr. James McCallmont's and to be pitch to Front Street the ally to be paved with Stone to carry the Water in the Midle thereof to the Street gutter the Windows being in bad repaire we deem it advisable to have them put in good order new Joice to be put in where the decayed ones is the plaistering of the Walls being broken and decayed is to be plaistered where necessary...
annual value $120.00

Tax records available from CHAD at U. D. list the person, and his or her real property and their value. For example in 1816 this includes house and land, acreage, rental property, plate (silver only? also gold?) and slaves for life (or for e.g. 7 years), their names and value. Charles Thomas in 1816 owned a store rented to McCullough, 2 rental house and 5 slaves for life of various ages.

Newspaper accounts. The Philadelphia Gazette (the 'New York Times of the 18th century') has been indexed by Accessible Archives from 1754-1800. Search on early occupants can be interesting. For example, Slator Clay who ran a store at 30 The Strand was reported as selling an almost new sloop. J M'Cullough had for sale 2 stills at J M'Cullough near New Castle in 1813 or J & E M'Cullough in New Castle (according to an ad in The American Watchman).

Graves -- Most early inhabitants were buried in the Episcopal churchyard or in the Presbyterian cemetery near Brosius Eliason lumber yard. The graves can help establish birth/death dates which may useful as a starting point for search of newspapers without indices.

The accumulated biographical information [under construction] from the above sources gives a very sketchy idea of the previous owners and their lives. What was life like for them-- interiors/exteriors of their houses, food, social interactions, drinking, sex, possessions, education, taxes, wealth, occupation, travel.... Although snippets of information can be gained from deeds, census, wills, probate records, a better picture can be gained through [under construction!!!] economic, historic and material culture studies of colonial and post-revolutionary America.